Our Infertility Journey
First, I have to start off letting you know that I am not a writer. In fact, I try to avoid writing especially about myself at all costs! HOWEVER (and this is a BIG HOWEVER), I can't stop thinking about sharing my (our) story, thoughts and emotions with others like me (and my husband) who struggled with infertility.
Sharing experiences and knowledge with others is what is going to help solve this epidemic. I say it is an epidemic because it keeps growing! A scientist and doctor that I spoke at my school said it best "America is not growing because of new births, it's growing because more people are coming to America. In fact, America births as well as European births are declining due to fertility problems in both men and women".
Second, I am not a Doctor. I am a certified holistic health coach with a passion for learning about health and nutrition. All my findings, research, and ideas come from my personal experience and relationships with some tremendous Doctors, Chiropractors, Acupuncturists, and guest speakers from my school (Institute for Integrative Nutrition).
If I can help one person by sharing my experience that would mean the world to me. Let me add one more thing, when I say "my" experience that is being very selfish. My wonderful and supportive husband shared this struggle and story with me.  We spent a lot of time together running to the Doctor for fertility treatments, researching why we are the 25% who are "unknown", and shared many heartaches along the way (failed IUI's, failed IVF treatments, miscarriage, and all the negative pregnancy tests). BUT, with all the heartaches and experiences we were blessed with our miracle. Our 2nd IVF procedure was a success and on March 15, 2013 we had our son Owen (a true warrior).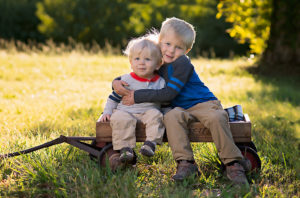 After a successful IVF transfer in 2014 we were blessed again but ended up losing our baby in a miscarriage. We took time away from trying, said many prayers, grieved and listened to God. Less than 2 months later we were extremely surprised with another pregnancy that happened NATURALLY. Another boy, Liam, joined our family in August 2015.  God answered our prayers! 
We have documented our journey and treatments so we could share them with others. You can CLICK HERE to go to the treatment page. If you are currently struggling with infertility, thinking about your options and need someone to talk to that understands, please don't hesitating in contacting me. My way of giving back for God's amazing blessings is to share and help others. I would love to hear from you and would love to support you on this difficult but wonderful journey.
To all the men out there like my husband "CHEERS to YOU"  for being the rock in our lives!
 – Amie